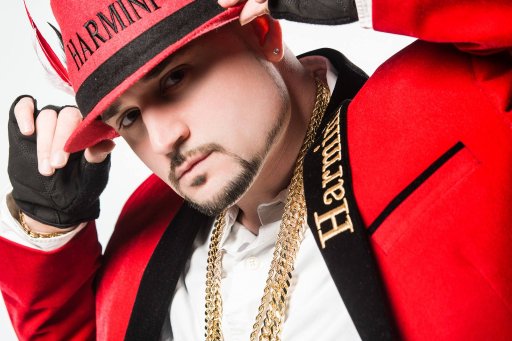 About HarminiMusic
                                                           A BRIEF LOOK INTO HARMINI
Harmini is a dynamic up and coming Christian rap artist full of energy and enthusiasm which spills over into his music and on stage in a very powerful way. Harmini's music and videos are full of straight forward hard-hitting messages that this generation truly needs in their life. His song and music video "If I Go Away" is currently debuting worldwide and is already impacting lives across the nations. From the gang member, to the addicted, to the convict, the suicidal, and many other troubled lives around the world. This powerful song speaks to people all over the globe reminding them that sin always brings unwanted consequences into our lives. But, it also reminds people that there is still hope! The messages in Harmini's music bring about the hope of change in all who are willing to turn from a lifestyle of sin and cling to a life that honors Jesus Christ. Harmini has been featured on notable Television platforms including but not limited to NBC news, KSLA Channel 12 news, ABC news, CBS news, WENY-TV, JUCE TV, TBN, TBN Salsa, KTAL, FOX News 12, Time with Theresa, Dallas Morning news, Denton Times newspaper, Rapzilla, Iran Alive International Ministries, ThisIs50, and more! He is currently getting ready to release his upcoming album "Mixed Messages" early 2018. Harmini will also soon be performing his song titled "God Is GREAT" feat. Da'TRUTH on live Television accompanied by a powerful music video and behind the scenes documentary shot and edited by an employee member of Dream Works in Los Angeles, CA.  Harmini has opened and/or shared stages with national recording artists such as: Disciple, Matt Adler, Rapture Ruckus, Sanctus Real, Da'Truth, Anthony Evans, Manafest, Kingdom Muzic, Children 18:3, Manic Drive, Lil' Rascal, Canon, Aaron Cole, Andy Mineo, Json, Canon, V-Rose, Abandon, Sir Earl Toon from the world renown band "Kool an the gang", and more. 
To book Harmini please contact Christian Artists International, Inc. @ Tel. 830-768-2320 or email HarminiProductions@yahoo.com or ChristianArtistsInternational@msn.com.
Influences
Toby Mac, Carman, Lecrae, Mercy Me, News Boys
Profile Stats:
NEW Christian Rap - Harmini - If I Go Away (Official Music Video)(@HARMINI731 @ChristianRapz)
Category:
Music
Duration:
00:04:43
Description:
" To contact Management and Booking for HARMINI, please call Christian Artists International, Inc./ Tel. 830-768-2320
Connect with HARMINI below!
Website-
http://www.harminiproductions.com/
Instagram-
http://instagram.com/harmini731
Twitter-
https://twitter.com/HARMINI731
Vevo-
https://www.youtube.com/user/HarminiVEVO
YouTube-
http://www.youtube.com/harmini731
Facebook Company-
http://www.facebook.com/HarminiProductions
CREDITS.
Director, Editor, Colorist
- Isaiah Smith, Isaiah Smith Films
Executive Producer, Songwriter, Music Producer
- Harmini, Harmini Productions
Director of Photography
-Mason Minor, Glory Media Productions
Assistant Producer
-Hukup Productions
Music Producer
- Benjamin Beville
Synopsis.
A young man, raised in the church and surrounded by godly council finds himself face to face with demonic influences of ungodly peer pressure.
After a series of compromising choices, the young man finds himself staring down the barrel of his worst nightmares. Controlled by his addictions and the outcome of his decisions the young man is chained to a destiny of imprisonment. Compelled to leave his fiance, his unborn son, and the teachings of Christ behind he sets out on a journey that will soon change his life forever.
Want you like to know details, see pictures and get a sneak peek at behind the scenes footage from Harmini's NEXT music video "COME HOME"??
Click below and click JOIN!!! -
https://www.facebook.com/events/595462677214124/
"
CLICK HERE TO SUBSCRIBE -
https://www.youtube.com/subscription_center?add_user=christianrapz
Follow Christian Hip Hop Hits Just as Hard!
Twitter -
http://www.christianrapz.org
Facebook -
http://www.christianrapz.us
Matt Bold -
http://www.christianrapz.info
YouTube -
http://www.christianrapz.com
Visit
http://www.christianraps.com
for more Christian Hip-Hop & Rap
NEW Christian Rap - Harmini - If I Go Away (Official Music Video)(@HARMINI731 @ChristianRapz)
NEW Christian Rap - Harmini - If I Go Away (Official Music Video)(@HARMINI731 @ChristianRapz)
NEW Christian Rap - Harmini - If I Go Away (Official Music Video)(@HARMINI731 @ChristianRapz)
NEW Christian Rap - Harmini - If I Go Away (Official Music Video)(@HARMINI731 @ChristianRapz)
NEW Christian Rap - Harmini - If I Go Away (Official Music Video)(@HARMINI731 @ChristianRapz)
Tags