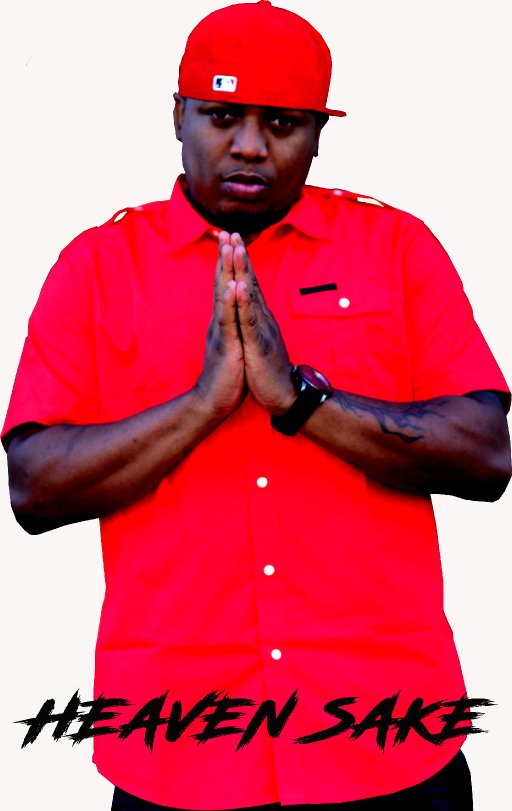 About HeavenSake
Heaven Sake is a multi-talented national recording artist and songwriter from southside Greenville, North Carolina. Raised in the streets, Heaven Sake has seen it all and done it all when it comes to shoot outs, drug dealing, drug abuse, jail time, high speed chases, high school, drop outs, robberies, homelessness,  the street life, premarital sex, and the list goes on, but in the midst of it all God transformed what was once a gangsta rapper into a powerful anointed rapper with an unbelievable testimony.
​
Born  Timetheus Blount, Heaven Sake is far from new to the rap game, considering he's been rapping since the age of 16. He picked up his lyrical genius being surrounded by 3 older brothers and an older cousin who were all hip hop heads. Growing up in the Kearney Park Projects, a place surrounded by crime, drugs, alcohol, and  poverty, music was a scapegoat in his household. From Marvin Gaye to The Temptations to the Jackson 5 to LL Cool J to Salt N Pepa to Eric B and Rakim to Big Daddy Kane to Nas and many more, soul, hip hop, pop music, R & B, and classical music became a coping mechanism for the North Carolina native.
​
He is known as "The Tupac" of gospel rap music, due to his bold delivery, his transparency, his versatility, his ability to paint a vivid picture, his creativity in articulating different cadences within his flow to make it signature, and the dramatic controversial topics in his music that confronts issues  that are considered "too real" to be addressed in churches. Since 2005, this anointed man of God have dropped 9 studio albums, "Me, Myself, and God" in 2006, "No Love Like His" in  2007, "I Owe Praise" in  2008, "Ministry Music" in 2009,  "Behold the Rapostolic" in 2012, "The Transition EP" in 2014., "The Chronicles of Heaven Sake" in 2017, "Checkmate" in 2018,  "Hell's Most Wanted" in 2020, and "Homecoming" also, dropping in 2020.
​
​​Heaven Sake has ministered throughout the US where he shared the stage with national recording artist such as, the legendary John P. Kee, Zicardi Cortez, and Diane Barrino-Barber, the mother of national R&B female vocalist and American Idol winner, Fantasia Barrino. 
​He also starred in the hit play, "They Said I Wouldn't Make It" directed by the late, David Payton, who's also writer and director of the box office movie hit, "A Good Man Is Hard To Find". He's traveled around the US spreading the gospel of Jesus Christ with hundreds of live performances under his belt.
​
Many souls have been won, influenced, impacted, inspired, encouraged, and empowered by this powerful anointed MC, so hold on to your seats because eyes have not seen, ears have not heard what God has in store for Heaven Sake.
Influences
Nas, Michael Jackson, Jay Z, Beanie Sigel
Profile Stats:
THE TRANSITION COMMERCIAL